Morella
Guide to Morella, a town in the Costa del Azahar region of Spain.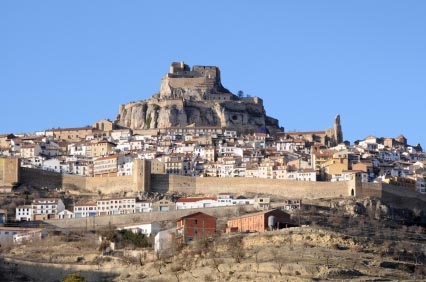 Costa del Azahar Towns - Morella
Morella - The principal town of the El Maestrat (the Masters) region of Valencia, Morella is a charismatic hilltop town, surrounded by a 2 kilometre wall, and crowned by a ruined castle. Behind its medieval walls lie a confused maze of narrow streets, alleyways and steep steps, which form part of one of the oldest continuously inhabited towns in Spain.
There is lots to see and do in Morella and in the upper part of the town you will find the Basilica de Santa Maria la Mayor, a church built in the Gothic style and boasting 2 elaborate sculpted doorways and a unique raised choir, accessed by an intricately carved spiral staircase.
There are several interesting museums to visit in Morella, including the Museo Tiempo de Historia, which outlines the history of the town, the Museo Tiempo de Imagen, with its collection of old photos of Morella, and the Museo Tiempo de Dinosaurios, with some exhibits of dinosaur bones found in the region around the town.
The ruined castle which overlooks the town (Castillo de Morella), was built by the Moors in the 13th century, it stands at a height of 1,072 metres above sea level. The castle has seen many battles throughout the centuries and was built on the site of earlier fortresses of Iberian and Roman origin. Be sure to also visit the nearby medieval aqueduct of Santa Llúcia.
You can get lots of interesting information about Morella at the Tourist Information Office in the Plaza San Miguel, near to the Torres de San Miguel, towers which frame the main entrance gate (one of 7) into the town.
Morella Links: Morella Map
Morella Property: Advertise your Morella property on this page: Advertise Here.
Costa del Azahar Property: Marina D'Or - Requena House - Peniscola Holidays
Costa del Azahar Golf: Oliva Nova Golf - More Spanish Golf
Costa del Azahar Hotels: Gran Hotel Peniscola
Costa del Azahar Places: Valencia - Alcala de la Selva - Alcossebre - Benicarlo - Benicassim - Burriana - Castellon de la Plana - Cullera - Onda - Orpesa - Peniscola - Sagunt - Teruel - Vilafames - Vinaros - Valdelinares
Related: Valencia Airport Transfers - Alicante - Barcelona - Murcia - Builders