Alicante
Alicante guide, holiday rentals, property, hotels, car hire, airport transfers, golf, markets.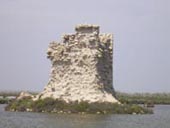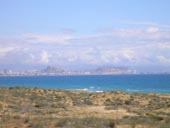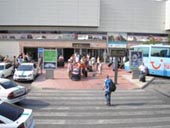 Costa Blanca Destinations - Alicante
Alicante - The second largest city in the province of Valencia with a population of around 300,000, Alicante has the look and feel of a modern city, however its modern look hides a history that goes back to the 4th Century BC.
The city sits neatly beside the Mediterranean Sea, proudly guarded by mountains which explains its history as an important sea port and trading centre.
Alicante History: Alicante was founded by the Greeks who first settled there in about 320 BC. It was later conquered by the Romans in 201 BC and then by the Moors who held control until the 13th Century. The city has seen war and conflict right up until the Spanish Civil War 1936-39 when it was one of the last Spanish cities to fall to Franco.
Alicante today is a more peaceful place and thrives more on the modern industry of tourism, with its mild temperate climate and scarcity of rain it is the ideal location for tourists and holidaymakers from all over Europe and indeed the world.
Alicante is graced by some of the best beaches in Spain and has some fine watersports venues such as Albufereta beach and Almadraba beach, one of the very best beaches is at Playa de San Juan, when the weather is good there can be few better places to be.
Alicante has a lively nightlife and has a huge choice of bars and restaurants with cuisines to suit all tastes although the speciality of the area is fish, being a thriving seaport it has created a number of local dishes comprising of fish.
Depending on the time of year you decide to visit, there are a number of carnivals and religious festivals which you should not miss if you get the opportuniy. The Spanish people love their fiestas which they enjoy with much vigour and gusto, some of the best known fiestas include the Moros y Cristianos (Moors and Christians), held in late April and celebrating the defeat of the Moors by the Christians in the 13th Century, the Hogueras de Sant Joan (celebration of the bonfires), the Misteri D'Elx (Mystery of Elche) held in August and the annual carnival held in the days leading up to Ash Wednesday.
As a city with a rich and ancient history there are of course plenty of sites of historical interest to visit, these include the Castle of Santa Barbara (situated on Mount Benacantil) one of the biggest medieval fortresses in Europe, the Iglesia de Santa Maria - the oldest church in Alicante, and the Museo Archaeologico - the citie's famous archaeological museum.
For those with shopping on their minds there is also a modern shopping area in Alicante, which includes the well know Corte Inglés department store.
If you get time and fancy something a little different why not take a trip on the lemon train between Alicante and Denia, there is some fantastic scenery to enjoy along the way. The "Lemon Express" has to negotiate some very rugged countryside and passes through mountain tunnels and over bridges. The trip to Denia takes about 2 and a half hours and leaves Alicante on the hour from 06.00 until 20.00, if you are coming to Alicante from Denia the train leaves Denia every hour from 06.25 up until 19.25 the line has 9 stations and 31 stops and was opened in 1914.
Alicante is easy to get to by most means of transport, the airport is at El Altet ( a 10 minute drive from the city centre), there is a main line railway station with trains running to Valencia, Barcelona, Madrid and Seville, the city is also easily reached by motorway from all surrounding areas and via the notorious N332 coastal road.
All in all Alicante is a city well worth a visit and due to its compact nature much can be seen in just one day.
Alicante airport driving distances: Alicante airport to Alicante city centre is a driving distance of 13 kilometres (8 miles).
Alicante Links: Alicante Map - Alicante Weather - Cheap Flight to Alicante - Alicante Airport Map
Alicante Property: Advertise your Alicante property on this page: Advertise.
Nearby Places: Benidorm - Moraira - Calpe - Altea - Albir - Javea - Guadalest - Villajoyosa - El Campello - Busot (Busot) - Finestrat - Alfaz del Pi
Attractions: Terra Mitica - Aqualandia - Mundomar - Terra Natura - Penon de Ifach - Caves of Canelobre - Fuentes de Algar - Santa Barbara Castle
Golf Courses: La Finca Golf - Ifach Golf Club - Real Faula Golf - Spain Golf
Related: Valencia - Santa Pola - Elche - Spain