Ifach Golf Club
Map and Guide for Ifach Golf Club, near Moraira, Costa Blanca, Spain.

View Ifach Golf Club in a larger map
Spanish Golf Courses - Ifach Golf Club
Shown above is an interactive road map of Ifach Golf Club, located near to Moraira and Calpe on the Costa Blanca, Spain
The map 'zooms' and 'pans' by means of the buttons on the top left of the map, this enables you to get a closer view of the Ifach Golf Club, or to view the surrounding areas such as Calpe, Moraira, Benissa, Benitachell, Cumbre del Sol, Javea and Pueblo Alcazar.
The Ifach Golf Club, one of the regions popular golf courses can be reached from the CV-746 which runs between Calpe and Moraira, on the northen Costa Blanca coastline of Spain.
Ifach Golf Club - Located beside the beautiful Costa Blanca resort of Moraira, the Ifach Golf Club was designed by Javier Arana, and is a short, difficult course with narrow fairways and cleverly located bunkers, it enjoys spectacular views along the coast to the Penon de Ifach at nearby Calpe.
The course has only 9 holes, so you will need to play it twice to get your normal 18 hole round, it comprises 6 x Par 3's and 3 x Par 4's (par 30 round). The address of the Ifach Golf Club is: Urb. San Jaime – Calpe, km. 3, 03720, Benissa, Alicante, Spain. Telephone. (0034) 966 497 114.
Moraira Links: Moraira Guide - Moraira Map - Moraira Weather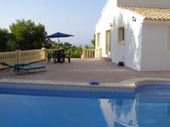 The owners are looking for a long term rental on this super refurbished 2 bedroom, 2 bathroom villa overlooking the Ifach Golf Course, close to Moraira on the northern Costa Blanca, Spain. Standing on a 1000m2 plot this fully furnished frontline villa with stunning sea views and golf course views also offers central heating, open fireplace and private swimming pool.
Rental is 800 euros per month plus bills.
This property overlooking the Ifach Golf Club is also for sale.
Full details can be found here: Moraira Villa Rental.
Nearby Places: Benidorm - Denia - Calpe - Gandia - Oliva - Pego - Altea - Albir - Javea - Guadalest - Villajoyosa - Teulada - Benissa - Cumbre del Sol - Gata de Gorgos -Xativa
Attractions: Gallinera Valley - Penon de Ifach - Algar Waterfalls - Caves of Canelobre - Fuentes de Algar
More Golf Courses: Oliva Nova Golf - Real Faula Golf - Spain Golf
Related: Alicante - Murcia - Valencia - Alicante Weather - Alicante Transfers