Moraira
Moraira holiday rentals, property, hotels, car hire, airport transfers, golf, markets, guide.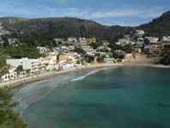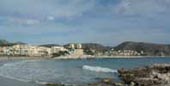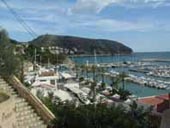 Moraira - Costa Blanca - Spain
One of the most unspoilt resorts along the northern Costa Blanca coastline, Moraira is a small town located in the La Marina Alta district of Alicante province. Some 40 years ago it was just a small cluster of fishing cottages sitting close to the sea and administered by the nearby town of Teulada. In recent years it has developed as an exclusive holiday resort but with a peaceful feel.
Set amongst mountainous countryside in a sheltered bay, Moraira has not been blighted by the tall apartment blocks which have spoilt some of the other nearby resorts and a large number of its buildings are attractive villas set amongst pine woods and orange groves.
As with most other towns and villages along this coast Moraira has, over the centuries, been predominantly a fishing village and has relied on fishing for its economy, in fact fishing is still very important for the town today and its busy fish market is one of the most popular in the region. The Moraira and Teulada area is well known for the growing of Muscatel grapes and these are used for making award winning wines.
Moraira is situated some way off the main coast road and therefore does not suffer the huge influx of tourists that some neighbouring resorts endure. The population of Moraira is less than 10,000 although this does of course increase considerably during the busy summer months. Moraira has a large percentage of non-spanish residents and is popular with the British and other north European nationalities. Many British people have chosen to buy property in the area, and a large number have even chosen to relocate permanently to this beautiful spot.
There were certainly settlers in the area around Moraira as far back as the Bronze Age and a number of cave paintings dating back to these ancient times have been found in the nearby town of Teulada. Evidence has been found in a cave on the Cap D'Or (Cova de la Cendra) of even earlier settlers during the Upper Paleolithic Era (15,000-20,000 BC).
The town itself was founded by the Moors during the Arab occupation (8th to 13th Centuries) and they have left their mark in the architecture, agricultural systems and irrigation methods, the Moors were finally expelled by the Christian king Jaime I in the 13th Century.
There is an ancient tale that the name Moraira is derived from a heathen princess called 'Ira la Mora' but there is no evidence to support this, a more likely explanation is that the name comes from the Arabic for 'moorish princess'.
Damaged by the British in 1801 the now restored Moraira castle (Torréon) dates from the 18th Century and was built by the ruling Bourbon family of the time.
The small harbour houses the fish market (Lonja) and this is held daily from Tuesday to Sunday, the fine marina is the home of the Moraira Club Nautico opened in 1985.
The two beaches of Moraira both carry 'blue flag' status and are clean, well looked after and safe for families, there are also water sports facilities available including sailing, diving, jet-skiing and water skiing. A weekly market is held every Friday next to the main beach selling fresh produce, clothes and gifts.
For golfing enthusiasts the Ifach Golf Club is nearby, with golfers enjoying a great game together with stunning views along the coast to the spectacular Peñon de Ifach at Calpe. Other golf courses within reasonable driving distance include the Oliva Nova course at Oliva and the Real Faula course near Benidorm.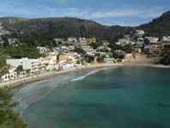 Moriara as with all Spanish town and villages has its share of fiestas and celebrations, the main ones being the Moors and Christians (Moros y Cristianos) held between the 14th and 20th June, the Virgin del Carmen held on the 15th and 16th July and the Fisherman's Fiesta also in July.
Moraira enjoys a typically temperate Mediterranean climate with hot summers and mild winters and similar to other resorts along this coast, enjoys over 300 days of sunshine every year. Moraira benefits from cooling sea breezes during the summer, which keeps the temperature at an acceptable level and in the winter time the surrounding mountains shelter the town from cold northerly winds, keeping temperatures higher.
Worth a look nearby is the small town of Benitachell and the area known as Cumbre del Sol, where towering cliffs offer spectacular views of the surrounding coastline.
Moraira is located between Calpe and Jávea on the northern Costa Blanca about 30 km from Benidorm. It can be accessed from the N332 coastal road and from junction 63 of the A-7 motorway.
Moraira Links: Moraira Map - Moraira Weather - Moraira Apartments - Street Map of Moraira - Moraira Villa Rental - Villa Rental in Moraira - Cumbre del Sol Apartment
Moraira Holiday Rentals
Rental Properties in Moraira - Holidays - Long Term - Short Breaks - Golfing Holidays
Moraira Holiday Rentals - 3 Bedroom Villa - Private Pool - Sleeps 6
Beautifully presented detached villa with private pool, offered for holiday rentals in Moraira. 2 bathrooms, air-conditioned, sun terrace.
Full details & booking here:
Moraira Holiday Rentals - 4 Bedroom Villa - Private Pool - Sleeps 8
Beautiful 4 bedroom detached villa with sun terrace and private pool, offered for holiday rentals in Moraira. 2 bathrooms, air-conditioned, dishwasher, BBQ, covered terrace.
Full details & booking here:



MORE MORAIRA RENTALS >>>






MORE MORAIRA VILLAS WITH POOLS HERE >>>



Moraira airport driving distances: Alicante airport to Moraira is a driving distance of 99 kilometres (62 miles), Valencia (Manises) airport to Moraira is a driving distance of 128 kilometres (79 miles).
Moraira Property for Rent by Owner
MORAIRA PROPERTY FOR RENT
3 bedroom, 2 bathroom luxury executive property offered for long term rental by the owner in Moraira / Teulada.
Full details here: Moraira Long Term Rental.
Moraira Property for Sale
Property for Sale by Owner in Moraira
MORAIRA PROPERTY FOR SALE
Beautiful 4 bedroom 3 bathroom villa, with private pool and panoramic mountain views, offered for sale by the owner in Pla de Mar.
Full details here: Moraira Villa.
MORAIRA PROPERTY FOR SALE
Villa with luxury separate Penthouse Suite with stunning mountain views, 5 mins drive to the sea, offered for sale by owner in Moraira.
Full details here: Villa in Moraira.
Also for Rent.

MORAIRA PROPERTY FOR SALE
Beautifully refurbished 2 bedroom villa, overlooking the Ifach golf course, near to Moraira. Offered for sale by owner.
Full details here: Moraira Golf House.
Also for Rent.
Moraira Property: Advertise your Moraira property here: Advertise.
Nearby Places: Denia - Gandia - Oliva - Pego - Altea - Albir - Javea - Guadalest - Villajoyosa - Benissa - Gata de Gorgos - Els Poblets
More Costa Blanca Attractions: Gallinera Valley - Algar Waterfalls - Caves of Canelobre - Fuentes de Algar - Montgo National Park
More Golf Courses: Real Faula Golf - Spain Golf
Related: Alicante - Murcia - Alicante Weather - Alicante Transfers