Morella Map
Useful Morella map, showing the location of the historic Costa del Azahar town.

View Morella in a larger map
Detailed Street Map of Morella Spain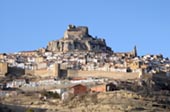 Morella Map - Zoomable road map of Morella, a historic walled town, with a ruined hilltop castle, located inland of the Costa del Azahar (Orange Blossom Coast) of eastern Spain.
Using the buttons on the top left you can 'zoom' and 'pan' to get a detailed street map of Morella and plan your visit to the town. By zooming out you can view the surrounding towns and villages of Palanques, Ortells, Villores, Forcall, Torré Miró, Xiva de Morella, Herbeset, Cinctorres, Sant Pere del Moll, and Port de Quirol.
The principal town of the El Maestrat (the Masters) region of Valencia, Morella is a charismatic hilltop town, surrounded by a 2 kilometre wall, and crowned by a ruined castle. Behind its unbroken, medieval walls lie a confused maze of narrow streets, alleyways and steep steps, which form.....read more: Morella.
Morella can be accessed from the N-232 or the CV-12/CV-14.
Morella Links: Morella Guide
Costa del Azahar Property: Marina D'Or - Requena House - Peniscola Holidays
Costa del Azahar Golf: Oliva Nova Golf - More Spanish Golf
Costa del Azahar Hotels: Gran Hotel Peniscola
Costa del Azahar Places: Valencia - Alcala de la Selva - Alcossebre - Benicarlo - Benicassim - Burriana - Castellon de la Plana - Cullera - Onda - Orpesa - Peniscola - Sagunt - Teruel - Vilafames - Vinaros - Valdelinares
Related: Valencia Airport Transfers - Alicante - Barcelona - Murcia