Los Locos Beach Torrevieja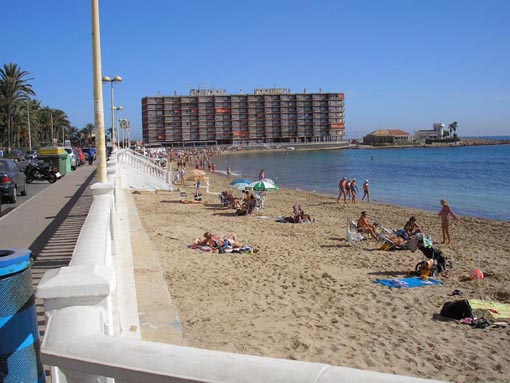 Torrevieja Beaches - Los Locos
Fine picture of the popular Los Locos beach, one of the excellent Torrevieja beaches in that well known Costa Blanca town. At the back of the beach there are a number of bars and restaurants with an even bigger selection if you choose to search around the various little back streets. On of the poular bars is Murph's Bar and another well known bar is Durty Nellies.
There are a good number beaches in Torrevieja and this is just one of the more popular ones located in the north of the town heading towards La Mata. A little futher on is another popular beach - Playa del Cura (Priest's Beach), and here you will find the start of the seafront promenade (paseo) where the Spanish in particular love an evening stroll.
Going further south beyond the Torrevieja marina is the largest Torrevieja beach - Playa de los Naufragos, a large and popular beach which gets very busy during the summer months and even into the winter on fine days, however due to the Spanish tradition of getting as near to the sea as possible, no matter how close you are to other beach lovers, there is always lots of space at the back of the beach.
Head by car a little further south and you will find some wonderful beaches along the Orihuela Costa, these include Playa Flamenca, Punta Prima, La Zenia and Cabo Roig. Most of these beaches have 'blue flag' status and are very safe and clean.
Torrevieja Links: Torrevieja Guide - Torrevieja Map - Torrevieja Weather - Torrevieja History - Torrevieja Pictures - Pacha Torrevieja - Torrevieja Marina - Torrevieja Spain - Torrevieja Costa Blanca - Torrevieja Beach
Los Locos Beach Property:
LOS LOCOS BEACH PROPERTY
Spacious, modern 2 bedroom apartment offered for sale by the owner beside Los Locos beach in Torrevieja. Fully furnished and equipped with air-conditioning.
Full details:Torrevieja Beachfront Property.
LOS LOCOS RENTAL
2 bedroom apartment offered for rent by owner close to Los Locos beach Torrevieja.
Full details here: Los Locos Apartment.
Advertise your Los Locos property on this page: Advertise Here.
Torrevieja Property: Torrevieja Property - Torrevieja Rentals - Torrevieja Apartments
Nearby Places: Punta Prima - Playa Flamenca - La Zenia - Cabo Roig - Guardamar del Segura - Ciudad Quesada - La Mata
Attractions: Salt Lakes - Rio Safari Elche - Palacio de Jacarilla
Golf Courses: Villamartin - Las Ramblas - Campoamor - La Finca - Lo Romero - La Marquesa Golf - Spain Golf Courses
Related: Orihuela Costa - Alicante - Murcia - Orihuela - Spain