Torrevieja Spain
Guide to Albatera, a town on the Costa Blanca, Spain.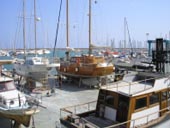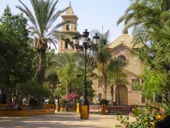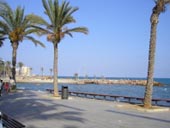 Resorts of Spain - Torrevieja Costa Blanca
Torrevieja Spain - Torrevieja - Every year thousands of holidaymakers from Spain and indeed all over Europe head for the Costa Blanca town of Torrevieja. Its great range of facilities, its excellent sandy beaches and its lively atmosphere all help to make it a popular choice.
Formerly a small fishing village, Torrevieja became one of the major salt exporters in the world thanks to the two huge salt lakes located behind the town. An explosion in property development during the 1980's and 1990's caused the town to grow at a phenomenal rate.
2 Towns Near to Torrevieja Spain:
Ciudad Quesada - Just inland from Torrevieja, the story of Ciudad Quesada is completely different and unique to that of any other town or village of the Costa Blanca, or in fact the whole of Spain. It is not a story of ancient settlers, nor of bitter wars fought between Arabs and Christians, Ciudad Quesada does not have a medieval fortress or an age-worn parish church built over the course of a hundred years. Ciudad Quesada is the result of one man's childhood dream, a dream to build his own 'Holiday City' where people could live together in harmony, prosper and enjoy life to the full. That dream of one Justo Quesada Samper finally became a reality in 1972 when the city of Ciudad Quesada was begun and had reached fruition by 1999 when it boasted its own Town Hall (Ayuntamiento) and its own Mayor.
Guardamar del Segura - Situated at the mouth of the Segura river, Guardamar del Segura is one of the most popular of the Vega Baja coastal resorts. Its wonderful sandy beaches and excellent climate are the main attractions and it is popular with both Spanish and European holidaymakers. Guardamar's ancient castle and old town were destroyed by a huge earthquake in 1829 and the town was re-built closer to the sea but the ever moving sand dunes of Guardamar del Segura encroached on the new town and a huge tree planting project was started in the late 19th Century to anchor the sand and save the town. This wonderful tree-planted area now forms 2 beautiful shady parks.
View Torrevieja Hotels: TORREVIEJA HOTELS
Torrevieja Spain Links: Torrevieja Guide - Torrevieja Map - Torrevieja Weather - Torrevieja History - Torrevieja Pictures - Pacha Torrevieja - Torrevieja Marina - Los Locos Beach - Torrevieja Costa Blanca - Torrevieja Beach
Nearby Places: Punta Prima - Playa Flamenca - La Zenia - Cabo Roig - Guardamar del Segura - Ciudad Quesada - La Mata
Attractions: Salt Lakes - Rio Safari Elche
Golf Courses: Villamartin - Las Ramblas - Campoamor - La Finca - Lo Romero - La Marquesa Golf - Spain Golf Courses
Related: Orihuela Costa - Alicante - Murcia - Orihuela - Spain - Builders