Torrevieja Spain
Torrevieja guide, holiday rentals, property, pictures, hotels, car hire, airport transfers, golf.
Torrevieja - Holiday Rentals - Property - Hotels
Torrevieja: One of the popular coastal towns of the southern Costa Blanca, Torrevieja is often quoted as being "The Healthiest Place to Live in the World". Whether this is true or not, I wouldn't know, but it certainly does enjoy a fine climate, and the proximity of its salt lakes, must have some beneficial effects. I have lived nearby in Cabo Roig for over 8 years and the only time I get a cold, is when I go back to the UK.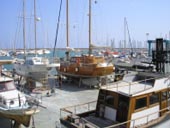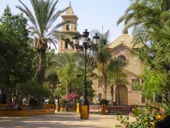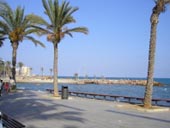 Formerly a small town involved in fishing and the production of salt, Torrevieja saw a boom in property development, from the 1980's until the financial crisis in 2008/09. This has resulted in a huge number of Brits and North Europeans, purchasing holiday homes in and around Torrevieja, and also a large number actually moving permanently to the area. Many have now returned to the UK due to financial difficulties, but a lot remain and continue to live there. Of course many choose to rent rather than buy, and there is a large population of International renters in the area.
The facilities in Torrevieja have improved considerably since I have lived I the region, and there is plenty to see and do for those living there or those just visiting on holiday.
Very popular with the Spanish as a holiday resort, especially those from Madrid, Torrevieja, being a busy town is perhaps not so attractive to Brits, many preferring to head along the coast a little to the Orihuela Costa, where the resorts of Punta Prima, Playa Flamenca, La Zenia, Cabo Roig and Campoamor, are a little quieter, have better beaches, and are more friendly.
Torrevieja does however have some decent beaches, though those in the town centre are mostly small. A decent one is Playa Los Locos, although even this can get very crowded, the best bet is Playa Naufragos to the south of the town centre, where there is plenty of room to spread out, you can even join in a beach aerobics session.
There are no golf courses in Torrevieja itself though there are several nearby, the closest being the three Orihuela Costa courses, Villamartin, Club de Golf Campoamor, Las Ramblas, the La Marquesa course at Ciudad Quesada, and the La Finca course at Algorfa.
Torrevieja has the best shopping in the immediate area with the Habaneras shopping centre, having the best shops. Near to this are the cinema, a tenpin bowling alley, the Carrefour hypermarket, and a Mcdonalds burger restaurant.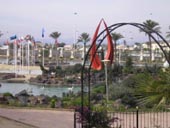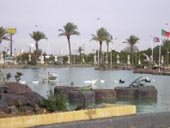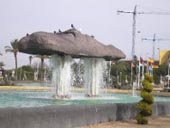 Torrevieja also has a large water park, called Aquopolis, which is open only during the school holidays (mid-June to September).
A popular spot is the harbour and the seafront promenade, which attracts crowds of people, especially in the evenings. Here you will find a little market, a fun fair, and plenty of restaurants and ice cream parlours.
Torrevieja has quite an interesting history, mostly which revolves around the salt industry, you can read more about it here: Torrevieja History.
Torrevieja is also popular for its nightlife, with a number of clubs and discos, plus plenty of lively bars and restaurants. One of the main night clubs is Pacha.
For those wishing to stay in the area, there is a huge choice of holiday and rental accommodation with Torrevieja apartments, bungalows, houses and villas readily available in large numbers.
Torrevieja can be accessed from the N-332 coast road, and from the AP-7 motorway (exit Torrevieja Norte), which is about 11 kilometres away. Alicante airport is a drive of forty minutes, and San Javier airport about 35 minutes.
Torrevieja Hotels: TORREVIEJA HOTELS
Torrevieja airport driving distances: Murcia (San Javier) airport to Torrevieja is a driving distance of 32 kilometres (20 miles), Alicante airport to Torrevieja (by motorway) is a driving distance of 66 kilometres (41 miles).
More Torrevieja Links: Torrevieja Map - Torrevieja Weather - Torrevieja Pictures - Torrevieja Spain - Torrevieja Costa Blanca - Torrevieja Beach
Torrevieja Hotels: Hotel Madrid
Nearby Places: Playa Flamenca - Guardamar del Segura
More Golf Courses: Las Ramblas - La Finca - Lo Romero - La Marquesa Golf - Spain Golf Courses
More Local Info: Orihuela Costa - Murcia - Orihuela - Spain
Related: Orihuela Costa - Murcia - Orihuela - Spain - Builders