Torrevieja Weather
See today's Torrevieja weather and get a 10 day forecast for the Costa Blanca town.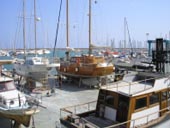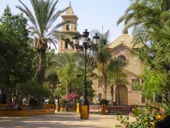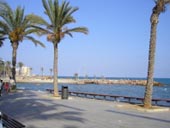 Latest Weather in Torrevieja Spain
Torrevieja Weather - Above you can view today's weather in Torrevieja, the weather is updated hourly so you can always see the current weather in Torrevieja, you can also look at the 10 day weather forecast for Torrevieja and for the surrounding towns and villages such as Ciudad Quesada, Los Montesinos, La Mata, Rojales and the Orihuela Costa.
Torrevieja has a good range of hotels and plenty of private rental accommodation, you can book a hotel in the area by using the search box on the right which gives the cheapest rates from a variety of hotel websites. A popular choice is the Cabo Cervera Hotel, which is in a good position on the seafront on the road to La Mata.
Rainfall is scarce in Torrevieja, and what does fall is usually during the cooler winter months, November and February are the commonest months for rain. The best weather in Torrevieja is from May to October when there is normally wall to wall sun and over the whole year the area basks in 300 plus days of sunshine.
Torrevieja enjoys a wonderful Mediterranean climate with mild winters and hot summers. The area enjoys a unique micro-climate and is a very healthy place to live.
The reason for this micro-climate is thought to be the location of the 2 huge salt lakes (Torrevieja and La Mata) which sandwich Torrevieja between the lakes and the Mediterranean Sea.
The fabulous Torrevieja weather is, of course, one of the main reasons to visit the town, and its fine sandy beaches are the place to enjoy these wonderful conditions. If you are renting in the area, try to make sure you are near to the beach, or have a communal swimming pool on you complex, so that you can cool down when the weather in Torrevieja is at its hottest.
Torrevieja Links: Torrevieja Guide - Torrevieja Map - Torrevieja History - Torrevieja Pictures - Pacha Torrevieja - Torrevieja Marina - Torrevieja Spain - Los Locos Beach - Torrevieja Costa Blanca - Torrevieja Beach
VIEW HOLIDAY HOMES IN TORREVIEJA HERE ->>>

Torrevieja Property for Sale
TORREVIEJA PROPERTY
Spacious, modern 2 bedroom apartment offered for sale by the owner beside Los Locos beach in Torrevieja. Fully furnished and equipped with air-conditioning.
Full details:Torrevieja Beachfront Property.

TORREVIEJA PROPERTY
Very nice 3 bedroom house offered for sale by the owner on the popular Jardin del Mar complex in Torrevieja. Off road parking, communal swimming pool, solarium.
Full details here: Torrevieja Jardin del Mar.

SAN LUIS TORREVIEJA PROPERTY
Fully furnished, 2 bedroom terraced property offered for sale by the owner on the San Luis complex in the suburbs of Torrevieja.
Full details here: San Luis Property.
Torrevieja Property: Torrevieja Property - Torrevieja Rentals - Torrevieja Apartments
Torrevieja Hotels: Cabo Cervera (Map)
Nearby Places: Punta Prima - Playa Flamenca - La Zenia - Cabo Roig - Guardamar del Segura - Ciudad Quesada - La Mata
Attractions: Salt Lakes - Rio Safari Elche - Terra Mitica Benidorm
Golf Courses: Villamartin - Las Ramblas - Campoamor - La Finca - Lo Romero - La Marquesa Golf - Spain Golf Courses
Related: Orihuela Costa - Alicante - Murcia - Orihuela - Spain