Purullena Spain
Guide to Purullena, a small town in Andalucia, famous for its cave houses.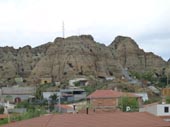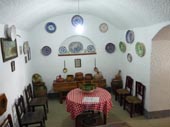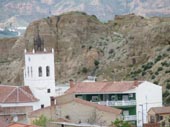 Spanish Towns - Purullena
Purullena Spain - On a recent visit to Granada, we stopped off at a little town called Purullena, located in the foothills of the Sierra Nevada mountains in Andalucia. Famous for its cave houses, Purullena has a population of around 2,300, about half of whom live in cave houses, giving it its nickname 'Troglodite City'.
The history of Purullena goes back to 1800 BC, according to findings in a nearby archaeological site at Cuesta del Negro, here a cemetery and settlement from the late Bronze Age were discovered, giving evidence of Purullena's early inhabitants. The cave dwellings appear to originate from the Arab occupation of the town.
The Moors were in control of the town from the 9th century until 1489, when it was reconquered by forces under the Catholic monarchs Ferdinand and Isabella. During the 17th century, Purullena was awarded the title 'villa Real', and retains this up to the present day.
Agriculture, pottery and tourism all contribute to the economy of the town, though historically, agriculture has been the most important due to its location on a fertile plain, especially renowned for the growing of peaches.
One of the residents of Purullena has turned his house into a living museum for the cave house tradition and for a small fee he will personally take you on a guided tour of his house and its museum sections (together set on 3 levels), which were dug out by 6 generations of his family. The caves are dug by hand into a clay hillside, using only pick-axes, they can be up to 4 metres wide and must be dome-shaped to avoid collapse. The finished cave is painted with porous chalk paint and individual cave rooms are separated by curtains (not doors) to allow free circulation of air between caves. Planning permission is needed to dig additional rooms.
The temperature inside the cave houses is constant during the winter and summer and hovers at around 20° C. The clay removed from the cave dwellings is not wasted, as it is used to make pottery which is sold in shops, from individual houses and at street markets in the area. The Cuevas Trogloditas museum includes a shop where you can purchase items of pottery, postcards and local products, to remind you of your visit to the town
Purullena Fiestas - Fiestas held in Purullena include San Antón (January) , San Blas (February), Santo Cristo de los Milagros (August), Saint Matin (November) and the Feast of Mozas in December.
Local monuments in Purullena include the 16th century Saint Martin church. Also worth a visit is the nearby town of Guadix, which has an even larger population of cave dwellers.
Purullena is located near to the better known town of Guadix, just off the A-92 motorway, to the east of Granada in southern Spain.
Purullena Links: Purullena Information - Purullena Weather - Transfers - Granada Guide
Related: Costa del Sol - Torremolinos - Fuengirola - Malaga - Mijas - Marbella - Puerto Banus - Nerja - Estepona - Ronda - Torrox - Almunecar - Calahonda - Granada