Fuengirola - Costa del Sol
Review of Fuengirola, a coastal resort on the Costa del Sol, Spain.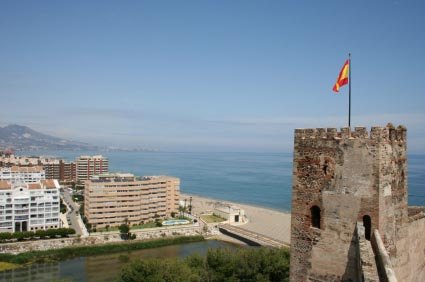 Fuengirola - Holidays - Car Hire - Hotels - Transfers - Rentals
Fuengirola: Lying midway between Marbella and Malaga is the well known Costa del Sol tourist resort of Fuengirola, one of the major developments along this part of the coast together with Torremolinos and Benalmadena, Fuengirola is spread along some 10 kilometres of coastline.
Part of the province of Malaga and in the autonomous community of Andalucia, Fuengirola is one of the best loved coastal resorts in southern Spain. Easily accessible from Malaga airport which is just 20 kilometres away, Fuengirola offers everything required for a fantastic family holiday or for re-location, as many have chosen to do over the last 30 years or so. Fuengirola has a population of around 63,000 (2006) and an area of 10.2km2.
Although it is a very modern resort, Fuengirola has a long and interesting history which stretches back to the times of the Phoenicians, the Romans and later the Arabs during their occupation of Spain. In the mountains to the south of the town are the remains of an Arab castle and on the same site are remnants of an even earlier Phoenician settlement. Also in the same area as the castle was a Roman settlement known as Suel and evidence has been found of a Roman Villa and Roman baths.
The current castle structure was built in around the 10th century by the Arab ruler Abderraman III and the surrounding settlement took on the name Suhayl and was cultivated and farmed by its Moorish inhabitants. In the early Middle Ages the town was razed to the ground and its inhabitants fled to Mijas, in subsequent years the settlement became known as Font-Jirola.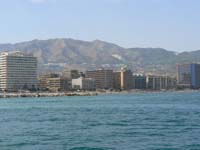 When the area was re-conquered for the Christians in 1485 the fortress was taken and an attempt was made to re-populate the settlement, this failed to succeed and the town came under the control of Mijas.
In 1810 during the Peninsular War, the Battle of Fuengirola occurred and is notable as some 3,000 British and Spanish troops were defeated by just 200 Polish soldiers.
In the following centuries Fuengirola relied mostly on fishing and agriculture for its economic survival, and its importance as a fishing port has continued to the present day and you will find a wealth of excellent seafood restaurants along the seafront areas.
In the 1960 Fuengirola started to become an important area for tourism and today the town has a huge selection of first class hotels, bars, restaurants, sports clubs and discos.
One of the main attractions of Fuengirola are its fabulous white, sandy beaches, and it boasts one of the longest promenades on the Costa del Sol. All of the beaches of Fuengirola have 'Blue Flag' status for cleanliness and safety and there are plenty of water sports facilities for the more energetic visitor. The bustling marina is the centre for water sports activities and the Fuengirola Diving Centre and Club Nautico caters for a wide range of activities including scuba diving, jet-skiing, sailing, windsurfing and fishing.
There are a number of fine beaches in Fuengirola and these include Playa Torreblanca (Torreblanca Beach), Playa Los Boliches, Playa Las Gaviotas, Playa de Fuengirola and Playa Santa Amalia.
Tuesday is market day in Fuengirola and the market is a popular place to pick up a bargain or two. During a vist to Fuengirola don't forget a trip to the Mijas Aquatic Park a great place to take the kids for a fun day out on the slides and rides. Fuengirola caters for visitors of all ages and is especially suitable for families. Trips to Torremolinos and Benalmadena may also be on the cards, as would excursions to the cities of Ronda and Granada.
Golf fans will not be disappointed with a trip to Fuengirola, as there are plenty of great golfing facilities nearby including the Alhaurin Golf Resort, the Santana Golf Club, the Naranjas Golf Club and the huge La Cala Resort.
Fuengirola Pages: Detailed Street Map Fuengirola - Fuengirola Airport Transfers - Fuengirola Apartment
Fuengirola Holiday Rentals
Rental Properties in Fuengirola - Holidays - Long Term - Short Breaks - Golfing Holidays
Fuengirola Holiday Rentals - 1 Bedroom Apartment - Shared Pool - Sleeps 4
Fabulous 1 bedroom apartment offered for holiday rentals in Los Boliches, Fuengirola. 1 bathroom, air-conditioned, satellite TV, Wi-Fi, communal pool, wheelchair access (long term/short breaks considered).
Full details & booking here: Fuengirola Holiday Rentals

MORE FUENGIROLA HOLIDAY RENTALS CLICK HERE>> Fuengirola Holiday Rentals
Fuengirola airport driving distances: Malaga airport to Fuengirola is a driving distance of 25 kilometres (16 miles), Gibraltar airport to Fuengirola is a driving distance of 80 kilometres (50 miles), Granada airport to Fuengirola is a driving distance of 141 kilometres (87 miles), Jerez airport to Fuengirola is a driving distance of 209 kilometres (130 miles).
Need more information? Search below
Related: Puerto Banus - Nerja - Estepona - Torrox - Almunecar - Calahonda