Praia da Rocha
Praia da Rocha, guide to the Algarve resort of Praia da Rocha.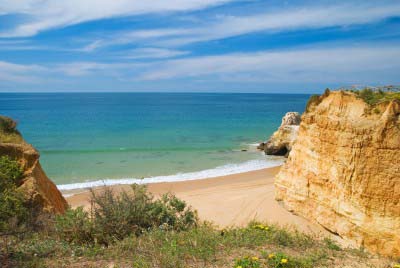 Resorts of the Algarve Portugal - Praia da Rocha
Praia da Rocha Portugal - One of the earliest tourist resorts to emerge on the Algarve coastline of southern Portugal, Praia da Rocha (Rock Beach) began welcoming holidaymakers in the 1930's, when its first hotel, the Bela Vista, opened for business.
Then, as now, the major attraction was the wonderful sandy beach, dotted with rock formations of all shapes and sizes and backed by cinnamon coloured cliffs. Along the top of the cliffs, an attractive promenade extends as far as the Santa Catarina fortress which was originally built to protect the port of nearby Portimao.
Praia da Rocha is still a popular holiday resort and attracts thousands of visitors, especially during the summer months, when extended hours of sunshine make the golden sandy beach "the " place to be. The resort has plenty of facilities with decent bars and restaurants (especially seafood restaurants) and a lively nightlife scene, attracting people of all ages.
Praia da Rocha is also a popular area for golfers and water sports enthusiasts, golf is especially well catered for with nearby courses including the Alto Golf and Country Club and the Penina Golf Resort (see map), water sports facilities include windsurfing, jet-skiing, paragliding and pedalos.
Praia da Rocha can be accessed from the N-125, it is about 2 kilometres from the centre of Portimao.
The driving distance Praia da Rocha to Faro and its airport is about 69 kilometres.
Praia da Rocha Links: Praia da Rocha Map - Praia da Rocha Weather
Algarve Links: Algarve Guide - Algarve Map - Algarve Weather - Faro Airport Transfers
Algarve Places: Albufeira - Portimao - Alvor - Tavira - Vilamoura - Faro - Lagos - Carvoeiro - Sagres - Praia da Luz - Silves - Luz
Algarve Hotels: Aparthotel Albufeira
Portugal Places: Coimbra - Leiria - Lisbon
More Info: Algarve Weather Forecast
Related: The Douro River - The Algarve - Travel Articles - Other Places - Builders