Tavira Portugal
Tavira, guide to the Algarve town and resort of Tavira.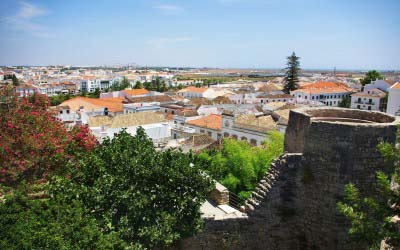 Towns of the Algarve Portugal - Tavira
Tavira Portugal - Often called "the Venice of the Algarve", Tavira is an ancient city which dates back to the Bronze Age. Today having a population of around 25,000 and a municipal area of some 607 square kilometres, Tavira is situated where the River Gilao meets the sea, it is becoming an increasingly popular Algarve tourist destination with superb beaches on the Ilha de Tavira and numerous fine golf courses in the immediate area.
Tavira was originally a Phoenician settlement, founded in the 8th century BC, it fell into decline but recovered during the Tartessian Period, after another period of decline, the Romans arrived and built a new port some 7 kilometres from present day Tavira, which they called Balsa, Tavira becoming secondary to this growing settlement.
The biggest changes in Tavira occurred during the Moorish occupation of the region, and their influence can still be seen today in the architecture of the town. The Moors held Tavira (from the Arabic Tabira) between the 8th and 13th centuries, until it was re-taken for the Christians by Dom Paio Perez Correia in 1242.
Though much damaged in the great earthquake of 1755, Tavira still has some important buildings to explore, the castle dates from the times of the Moors but was mostly rebuilt during the 18th century, the seven arched Ponte Romana bridge over the River Gilao is possibly not Roman but Moorish and was also much rebuilt after the earthquake. Tavira's many churches include the Igreja de Santa Maria do Castelo which originally dates from the 13th century.
Local attractions in and around Tavira include the Pego do Inferno waterfall, which is about 4 kilometres ouside the town, with picnic area, bar, cafe and barbeque areas. On a hot day take a dip in the refreshing waters for a quick cool down.
Tavira is located in the eastern Algarve region, fairly close to Portugal's border with Spain, it is about 40 kilometres drive from Faro airport.
Tavira Links: Tavira Map - Tavira Weather
Algarve Links: Algarve Guide - Algarve Map - Algarve Weather
Algarve Places: Albufeira - Portimao - Alvor - Vilamoura - Praia da Rocha - Lagos - Carvoeiro - Sagres - Praia da Luz - Silves - Luz
Algarve Hotels: Aparthotel Albufeira
Portugal Places: Coimbra - Leiria - Lisbon
More Info: Algarve Weather Forecast
Tavira is around 40 kilometres drive from Faro airport.
Related: The Douro River - The Algarve - Travel Articles - Other Places - Builders