Pinar de Campoverde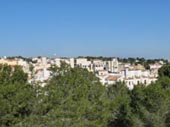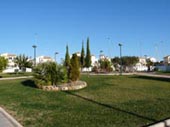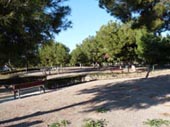 Guide to Pinar de Campoverde Spain
Pinar de Campoverde - Situated a little inland from the town of Pilar de la Horadada is the village of Pinar de Campoverde, just 8 kilometres from the Costa Blanca coastline, Pinar de Campoverde is located in a quiet area set in pine woodland, offering lovely views of the nearby Mediterranean sea.
A little to the south is the popular area of the Mar Menor (Lesser Sea) with some excellent resorts and beaches, some of the best known being Lo Pagan, Santiago de la Ribera and Los Alcazares. To the north lies the busy Orihuela Costa region with some wonderful resorts such as Cabo Roig, Campoamor, La Zenia, Playa Flamenca Mil Palmeras and Punta Prima, all have 'blue flag' beaches and a wide range of facilities.
Pinar de Campoverde comprises mostly detached properties on large plots of land, its residents consist of a large percentage of British expats and also a number of German people.
The centre of the village of Pinar de Campoverde has a good variety of restaurants and bars and also has a supermarket, there are tennis courts, swimming pools and banks, a bus service runs between Pinar de Campoverde and Pilar de la Horadada and there is a small street market held on Sundays a great place to buy locally grown fresh produce and other products.
For golfing enthusiasts there are a number of excellent golf courses nearby, the three courses of the Orihuela Costa are particularly popular (Villamartin, Las Ramblas and Campoamor), and to the south towards Cartagena and Murcia there are a number of new courses and developments specifically for golfers.
There are additional sports facilities nearby at Pilar de la Horada where a huge sports complex has been built catering for many sports. There are some English run sports clubs including badminton, bowls, tennis and table tennis, there is also an excellent indoor swimming pool.
To the north-east of Pinar de Campoverde is a well known area of natural beauty called the Rio Seca ('Dry River'), this is an excellent place to take a stroll and enjoy the many species of flora and fauna, there are a number of unusual species to enjoy including some wild orchids and some rare varieties of dwarf palm.
Pinar de Campoverde is a tranquil place and it is clear to see why many British people have chosen to make it their home, living amongst the pine forests in a quiet hillside location and enjoying picturesque views and a lovely Mediterranean climate with in excess of three hundred sunny days every year, exceptionally low rainfall and extremely mild, sunny winters. Away from the hustle and bustle of the nearby coastal resorts but close enough to get to and enjoy their facilities when you wish.
Pinar de Campoverde is easily reached from both Murcia (San Javier) and Alicante airports - Murcia airport is about a twenty minute drive away and Alicante is around fifty minutes drive.
Pinar de Campoverde can be reached by taking the CV-925 from the N332 coastal road. The AP-7 motorway is near by and you need to leave at junctions 770 (Pilar de la Horadada) or 774 (San Pedro del Pinatar).
Pinar de Campoverde Links: Pinar de Campoverde Map - Pinar de Campoverde Weather
Nearby Resorts: Cabo Roig - Pilar de la Horadada - Torre de la Horadada - Campoamor - Mil Palmeras - San Pedro del Pinatar - Santiago de la Ribera - Punta Prima - San Miguel - Los Alcazares
Golf Courses: Villamartin - Las Ramblas - Campoamor - La Finca - Lo Romero - La Marquesa - Roda Golf - Mar Menor Golf Resort - Spanish Golf Courses
Related: Orihuela Costa - Torrevieja - Alicante - Murcia - Orihuela - Ciudad Quesada - Playa Flamenca - Campoverde - Benidorm - Cartagena - Builders