Mil Palmeras Spain
Guide to Mil Palmeras, a resort on the Costa Blanca.
Mil Palmeras - Orihuela Costa - Costa Blanca
Mil Palmeras - The most southerly resort on the Orihuela Costa stretch of the southern Costa Blanca, Spain, Mil Palmeras is a popular and beautiful coastal resort with some fine sandy beaches.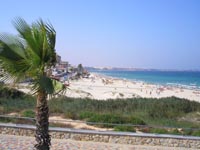 The main beach, Playa Mil Palmeras has fine white sand and the usual range of facilities, the more adventurous will find numerous rocky coves and bays with very few visitors except during the very busy months.
To the south of Mil Palmeras lies the small town of Torre de la Horadada, then Pilar de la Horadada and beyond that the Mar Menor and the beautiful Costa Calida coastline of the Murcia region of Spain.
To the north you will find all the popular resorts of the Orihuela Costa, Campoamor, Cabo Roig, La Zenia, Playa Flamenca, Punta Prima and beyond these, Torrevieja and Alicante.
Mil Palmeras is located on the N-332 coast road is easily reached from both Murcia (San Javier) airport (about 15 minutes drive) and Alicante airport (45 minutes drive) by way of the AP-7 motorway.
Mil Palmeras Map - To the right is a location map for the Orihuela Costa seaside resort of Mil Palmeras, it is in the area between Dehesa de Campoamor and Torre de la Horadada.
Using the buttons on the top left of the map you can zoom in and out for a better view and to find main street addresses, you can in fact get a detailed street map of Mil Palmeras.
Mil Palmeras Weather - The weather in Mil Palmeras is typically warm and sunny all year round and the resort enjoys a fine Mediterranean climate with hot summers and mild winters and experiences over 300 days of sunshine each year, making it an ideal location for a holiday or for re-location. For the latest weather click on the link below.
Golf: Mil Palmeras is ideally located for golfers with 4 courses within a 10 minute drive of the resort and lots more within 30 minutes travelling distance.
Mil Palmeras can be accessed from the N332 between Cabo Roig and Torre de la Horadada.
Mil Palmeras Links: Mil Palmeras Weather - Mil Palmeras Map
Read more about Mil Palmeras here
Nearby Places: Torre de la Horadada - Pilar de la Horadada - Cabo Roig - San Miguel de Salinas - La Zenia - Campoamor - Punta Prima - San Pedro del Pinatar - Mar Menor
Golf Courses: Villamartin - Las Ramblas - Campoamor - La Finca - Lo Romero - La Marquesa - Spain Golf Courses
Related: Orihuela Costa - Torrevieja - Alicante - Murcia - Orihuela - Ciudad Quesada - Playa Flamenca - Benidorm - Cartagena - Builders