Lanzarote
Guide to Lanzarote, popular holiday destination in the Canary Islands.
The Canary Islands - Lanzarote
Lanzarote - Known as Isla del Fuego (Fire Island), Lanzarote rose from the sea between 16 and 20 million years ago. It is the most easterly of the Canary Islands and is the closest to the coast of Africa. Almost entirely volcanic in nature, the landscape of Lanzarote is barren and devoid of vegetation. It may seem strange that such a place has become popular with holidaymakers, but popular it is and many thousands arrive each year to enjoy the sunshine and the fine sandy beaches, Lanzarote now relies on tourism for 80% of its income.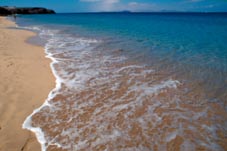 Lanzarote has an area of 795 km2 and is made up of solidified lava from over two hundred volcanic peaks. In many places Lanzarote has the look of a lunar landscape and it has been the location for a number of movies requiring this type of backdrop.
The known history of Lanzarote goes back to 1312 when an Italian (Genoese) captain called Lanzarotto Malocello landed there and called the island Tytheroygata (it was later renamed after the man himself). After this the island was frequently visited by ships from Italy, Portugal and Spain, and was eventually conquered by a Norman nobleman named Jean de Béthencourt, sailing under the flag of Henry III of Castille, in 1402. Despite rivalry for control with the other great sea power of the time, Portugal, Lanzarote finally became Spanish territory in 1479.
The economy of Lanzarote has relied mostly on agriculture and fishing over the centuries until the modern invasion of tourism took over in the 1960's. Attracted by the superb all year round climate and by its lovely sandy beaches, holidaymakers have come to love this island in the sun.
One of Lanzarote's finest and most popular resorts is Puerto del Carmen, once just a tiny fishing village, it has now become the largest resort centre on the island, with its town and beaches stretching for almost 12 km. Puerto del Carmen has a good range of facilities, a fine old fishing harbour and some excellent beaches.
The capital of Lanzarote is Arrecife, which has been an important harbour town for the island since the 15th Century. It became the capital in 1852 and has developed into the island's main port and commercial centre.
For visitors interested in the volcanic history of Lanzarote, the main place to head for is the Parque Nacional de Timanfaya, this is Lanzarote's National Park and is located in the south-west of the island. It contains the Montañas del Fuego (Fire Mountains), which during the 18th Century erupted frequently, covering the land and villages in molten lava and creating much of its modern day lunar landscape. The area is now safe although there is still molten lava under the surface and it is possible for visitors to enjoy meat and fish cooked on a 'volcanic grill'. Tourist can also witness water being turned to steam, as it is poured into underground pipes, subterranean temperatures in the park reach up to 600º Centigrade.
Lanzarote has not been blighted by high-rise development and this is largely due to the influence of its most famous son César Manrique (1919-1992) who in the 1960's and 1970's introduced rules controlling the height, colour and design of all new buildings on the island. Everywhere on Lanzarote you can see the work of this famous man who tragically died in a car accident in 1992.
Other major resorts in Lanzarote are Playa Blanca and Costa Teguise, Playa Blanca though one of the largest resorts on the island is still relatively unspoilt and retains much of its original fishing village charm, Playa Blanca has some fine beaches and good facilities, Costa Teguise which is a modern resort has some fine beaches, a golf course and is very popular with water sports enthusiasts.
Lanzarote has some charming little towns and villages, most notably Haria and Yaiza, also numerous interesting place to visit such as the Jameos del Agua caves, Isla Graciosa and El Golfo.
The majority of visitors to Lanzarote are of course holidaymakers, though many fall in love with the island and choose to buy property in Lanzarote, so they can visit whenever they choose. Others buy Lanzarote property for investment purposes and there is a big demand for holiday rental villas and apartments.
To get about the island you might want to consider hiring a car, otherwise you may be confined to your resort, other options would be to join organised trips, or even take the bus.
Lanzarote Links: Lanzarote Map - Lanzarote Weather
Lanzarote Places: Puerto del Carmen - Arrecife - Costa Teguise - Guatiza - Orzola - Playa Blanca - Playa de Papagayo
Related: Fuerteventura - Tenerife - Gran Canaria - La Palma - El Hierro - La Gomera - Spain - Builders