Playa de Papagayo
One of Lanzarote's finest beaches, visit Playa de Papagayo.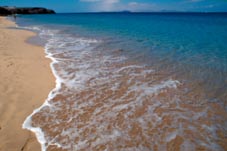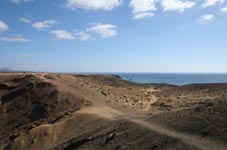 Lanzarote Beaches - Playa de Papagayo
A relatively isolated area of fine beaches to the east of Playa Blanca, Punta de Papagayo (Parrot Point) is located on Lanzarote's southernmost tip.
Boasting some of the finest beaches on the island, and so far totally unspoilt by development, Papagayo attracts plenty of sun worshippers, especially from the resort of Playa Blanca (15 minutes drive away).
The various beaches can be found in sheltered bays on both sides of the windy Punta, and some are tricky to get to by car, as there are no proper roads. The busiest and most popular beach is Playa de Papagayo, which can be reached by car from Playa Blanca, there are also regular boat trips from Playa Blanca harbour.
Some of the other beaches are best reached by foot and include a nudist beach, Playa de Puerto Meulas, and some other gems  such as Playa de Mujeres and Playa de los Pozos.
If you are paying more than just a brief visit, be sure to take a beach umbrella for some shade, as there is little or no natural shade on any of these beaches, and the weather can get pretty hot, best also to take a cold box with some refreshing drinks.
Well worth a visit away from the busy resorts, Playa de Papagayo and the area enjoys some stunning views across to neighbouring Fuerteventura.
Playa de Papagayo Links: Playa de la Papagayo Map
Nearby Places: Playa Blanca - Yaiza
Attractions: Jameos del Agua - Timanfaya National Park
Related: Fuerteventura - Tenerife - Gran Canaria - La Palma - El Hierro - La Gomera - Spain - Builders