La Gomera
Guide to La Gomera, one of the Spanish Canary Islands.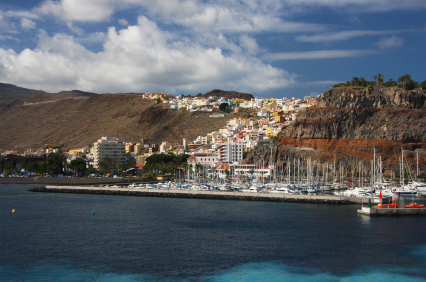 The Canary Islands - La Gomera
La Gomera - Canary Islands Location of one of the world's oldest natural forests, the island of La Gomera is the second smallest of the main Canary Islands, having an area of just 378 square kilometres. Volcanic in nature, La Gomera is often referred to as "Isla Redonda" (Round Island) due to its circular shape, its coastline is rugged and steep especially in the west, its interior is mountainous rising to 4,879 feet at the Garonjay Peak.
La Gomera has a population of 21,952 (2006), its largest town is the capital San Sebastion de la Gomera which itself has around 8,000 inhabitants.
The inhabitants of La Gomera have survived mostly over the centuries by way of agriculture, with fields set on terraces carved into ravine slopes, the primary crops are bananas, grapes, potatoes and tomatoes.
La Gomero is still mostly untouched by tourism, though it is a popular day trip destination for visitors from nearby Tenerife. Hikers and nature lovers head for the Garonjay National Park (Parque Nacional de Garonjay), which cover a large portion of the island and features mountains, ravines and ancient laurel forests, often shrouded in eerie mists.
The harbour for La Gomera is located at San Sebastion de la Gomera, which welcomes daily arrivals from the island of Tenerife, ferries set off from Los Cristianos in the south of Tenerife.
Related Links: Canary Islands Information - Canary Islands History
Related: Fuerteventura - Tenerife - Gran Canaria - La Palma - El Hierro - Lanzarote - Spain - Builders