Cuevas del Rodeo
Interesting article about the Cuevas del Rodeo in Rojales, Spain.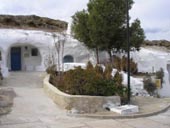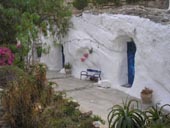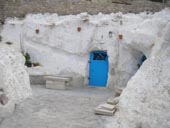 Costa Blanca Attractions - Cuevas del Rodeo
Cuevas del Rodeo - If you are visiting the Costa Blanca, Spain and you are in the region of Rojales, Guardamar del Segura or Ciudad Quesada a place you must visit is the area of the cave houses known as Cuevas del Rodeo (Rodeo Caves).
Carved by hand, deep into solid rock, the cave dwellings look down on Rojales from the surrounding hillside. Built between the 18th and 20th Centuries, the cave houses are now used by artists and craftsmen to display and sell their wares to tourists and townspeople.
The area is set out in a tourist friendly manner with clearly signposted pathways and seated areas suitable for picnics etc. There are "Craft Days" and monthly exhibitions of paintings, photography and sculpture.
According to the tourist office brochure there are works of art available for purchase all year round, though when we visited in mid-October everything seemed to be closed and apart from the information "cave" where a lady was working on some artwork (the information cave was however closed during siesta time). Do not let this put you off visiting though as the cave dwellings themselves were well worth the visit.
There are approximately 17 cave houses in Cuevas del Rodeo, they are all painted in white with blue doors and all have house numbers. There is very little natural light within the cave dwellings as in most of them entry is only by a single door with a small window, as you go deeper into the houses, light is provided only by electricity.
The caves can be accessed by a variety of routes and by a number of roads within the town of Rojales including Calle Cuevas del Rodeo, Calle Rodeo and Calle Collegio among them. The caves are signposted from the town centre, though we did get a bit lost trying to find them so a decent street map would be a definite advantage when visiting. If you can obtain a Tourist Information leaflet this is a great help and gives a guide to all the cave houses and their uses. We picked ours up at Guardamar del Segura Tourist Information office (we still got lost!).
The caves are numbered as follows:-
1.Taller de Cerámica - Ceramic Workshop
2.Creaciones en papel y reciclado artisico - Paper creations and artistic recycling.
3.Teteria La Cueva Café - The Cave Café and Tearoom.
4.Sala Mengolera - Megolera Hall
5.Taller de Piel - Leather Workshop
6.Información - Information Cave
7.Información - Information Cave
8. Cueva de Graham - Graham's Cave
9. Taller de Cerámica - Ceramic Workshop
10. Sala B.Art - B. Art Hall
10b.Taller de Cerámica y Escultura - Ceramic and Sculpture Workshop
11. La Cueva de Santi - Santi's Cave
11b.Taller de Pintura - Painting Workshop
12.Taller de Piel - Leather Workshop
13.Taller de Escultura y Pintura - Sculpture and Painting Workshop
14.Sala 14 - No 14 Hall
15.Taller de Pintura - Painting Workshop.
Close to cave 14 and an absolute must visit while you are there, is the Shell House, this is a spectacular house covered in shells of many colours, tiles and mirrors in a variety of designs. The owner still lives in the house and if he spots you outside he will invite you in for a look. The Shell House is the result of many years of patient work. There are pots and mirrors available to buy, all decorated in shells. While there is no charge for going into the house buying one of these articles goes some way to repaying a man who has dedicated his life to the pleasure of others (if you buy a little plant pot he will even give you a plant to go in it!).
To get to the Cuevas del Rodeo and the Shell House you first need to make your way to the town of Rojales. Rojales is easily accessible from the CV91, the AP-7 motorway or from the coast road the N332 near Guardamar del Segura.
Nearby Places: Torrevieja - Punta Prima - Playa Flamenca - La Zenia - Cabo Roig - Guardamar del Segura - Ciudad Quesada - La Marina - Rojales - Algorfa - Santa Pola - San Fulgencio
Other Attractions: Salt Lakes - Rio Safari Elche - Palacio de Jacarilla
Golf Courses: Villamartin - Las Ramblas - Campoamor - La Finca - Lo Romero - La Marquesa Golf - Spain Golf Courses
Related: Orihuela Costa - Alicante - Murcia - Orihuela - Spain - Builders