San Fulgencio
San Fulgencio holiday rentals, property, hotels, car hire, airport transfers, golf, guide.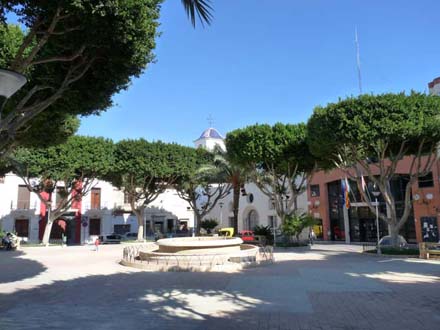 Costa Blanca Villages - San Fulgencio
San Fulgencio - The Costa Blanca village of San Fulgencio is located just north of Rojales on the CV-859, one of the Vega Baja (Low Fertile Valley) villages, San Fulgencio has a population of approximately 9,597 (2006) of which some 74% are of foreign nationality (over 4,000 registered British).
The history of San Fulgencio began in the 18th century, when the bishop of Cartagena (Luis de Belluga y Moncada) ordered a project to recover some of the marshy lands close to the Segura river, and turn them into fertile agricultural areas suitable for growing crops.
The village was officially founded in 1729 and given the status of "real villa" by Felipe V, its population was made up of peoples from along the Segura valley and by 1794 had reached 1,215.
San Fulgencio has relied mostly on agriculture since these early times although is now greatly dependent on tourism and property development, as are many of the villages along this part of the coast. Among places worth visiting in San Fulgencio are the 18th century parochial church and the Archaeological Museum.
San Fulgencio is situated around 22km from Orihuela and 35km from Alicante and is about 4km from the beaches of Guardamar del Segura.
Places to visit nearby include Formentera del Segura, Algorfa, La Marina, Ciudad Quesada, La Mata, Daya Nueva, Daya Vieja, Almoradi, and of course Torrevieja, with its many facilities.
San Fulgencio Links: San Fulgencio Map - San Fulgencio Weather
San Fulgencio Holiday Rentals
VIEW SAN FULGENCIO HOLIDAY RENTALS HERE >>>

San Fulgencio airport driving distances: Murcia (San Javier) airport to San Fulgencio is a driving distance of 53 kilometres (33 miles), Alicante airport to San Fulgencio is a driving distance of 55 kilometres (34 miles).
San Fulgencio Property for Sale
Property for Sale by Owner in San Fulgencio
SPANISH PROPERTY IN SAN FULGENCIO
Spacious 3 bedroom apartment, offered for sale by the owner in the village of San Fulgencio, Costa Blanca. Fully furnished, large solarium.
Price:

SOLD
San Fulgencio Property: La Marina House - San Fulgencio Property - San Fulgencio Apartment
San Fulgencio Property: Advertise your San Fulgencio property on this page: Advertise.
Nearby Places: Santa Pola - Algorfa - Formentera del Segura - Almoradi - Ciudad Quesada - La Mata
Attractions: Tabarca Island - Cave Houses Rojales - Shell House - Rio Safari Elche
Golf Courses: La Finca - La Marquesa Golf - Spain Golf Courses