Villamartin Map
Useful Villamartin map, showing the location of the urbanization and golf course.

View Villamartin in a larger map
Detailed Street Map of Villamartin Spain
Villamartin Map - Above you will see an interactive Villamartin map, giving the location of the golf course and urbanization in the Alicante province of the Costa Blanca, Spain.
Using the controls on the top left of the map you can 'zoom' and 'pan' and get a detailed street map of Villamartin, or move around to view surrounding towns and villages. By using these features you can see the nearby areas of Campoamor, Cabo Roig, Playa Flamenca, La Zenia and Torrevieja.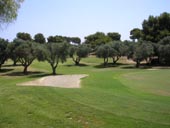 There are 3 golf courses close to each other in the Orihuela Costa area though Villamartin is the most established and best known of the 3 (the other 2 are Campoamor and Las Ramblas). Villamartin is a championship course and hosted the 1994 Mediterranean Open.
As well as the golf course, Villamartin is also a large urbanization with a great choice of both residencial and holiday property, many have chosen to settle in this area and many have purchased holiday homes or golfing rental properties in the area, there are always plenty of villas and apartments for sale there.
On your trip to Villamartin you can also visit Torrevieja, Punta Prima, Campoamor, Cabo Roig and San Miguel de Salinas.
Villamartin is clearly signposted from the N-332 coastal road, or take the La Zenia exit from the AP-7 motorway, it can be accessed from Cabo Roig (taking the Dehesa de Campoamor exit from the N-332).
FIND VILLAMARTIN HOLIDAY HOMES HERE ->>>>

Villamartin Pages: Villamartin Guide - Villamartin Weather - Villamartin Plaza
Places Around Villamartin: Cabo Roig - La Zenia - Playa Flamenca - Torre de la Horadada - Campoverde - Pilar de la Horadada
More Golf Courses: Las Ramblas - Campoamor - Lo Romero Golf - Spain Golf Courses
Other Pages: Street Map
Related: Orihuela Costa - Alicante - Murcia - Orihuela - Ciudad Quesada - Builders