Tenerife Map
Useful Tenerife map, showing the major towns and resorts of the island.

View Tenerife in a larger map
Interactive Road Map of Tenerife
Tenerife Map - Zoomable road map of Tenerife a popular tourist destination in the Canary Islands, Spain. Tenerife has a good selection of hotels and holiday rental accommodation, some interesting tourist attractions, wonderful weather conditions and some fine sandy beaches.
Using the buttons on the top left you can 'zoom' and 'pan' to get a detailed road map of Tenerife and plan your visit to the island, you can also view this Tenerife map in satellite and terrain modes, to give different views of the island, left click and hold to move the map around.
On the map it is also possible to view the Tenerife towns, villages and resorts of Santa Cruz de Tenerife, Candelaria, Los Gigantes, San Cristobal, Costa Adeje, La Orotava, Los Cristianos, Puerto de la Cruz, Arona, Playa de las Americas, Playa Paraiso, Las Galletas, Puerto Santiago, Fanabe, Callao Salvaje, El Sauzal, Costa del Silencio and Guia de Isora.
Tenerife is the largest of the Spanish Canary Islands, its skyline is dominated by the towering Pico del Tiede (at 12,195 feet the tallest peak in Spain), Tenerife has a resident population of around 700,000 and an area of 2,534km2. Tenerife has 2 distinct climatic area - the north-west is humid and covered in vegetation, the south is hot and dry with an arid, rocky landscape, this is the area with the weather that attracts most visitors.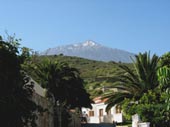 The more popular tourist resorts are located in the hot south and such renowned locations as Playa de las Americas and Los Gigantes attract thousands of visitors every year. Tenerife has 2 airports - Los Rodeos in the north and Reina Sofia in the south. The biggest of the northern resorts is Puerto de la Cruz, which is close to the town of La Orotava.
Tenerife has plenty of attractions to enjoy on the island, and it does boast the most visited National Park in Europe (Mount Teide), there are also water parks, go-cart tracks, botanical gardens, camel rides, zoos and animal parks.
More Tenerife Places: Los Cristianos - Adeje - Arona - Caleta - Callao Salvaje - Chayofa - Costa del Silencio - Fanabe - Las Galletas - Playa Paraiso - Bajamar - Los Realejos - Icod de los Vinos
Tenerife Hotels: Principe Tenerife
Tenerife Golf: Amarilla Golf - Golf del Sur
Related: Gran Canaria - Lanzarote - La Palma - Fuerteventura - El Hierro - La Gomera - Builders