Los Gigantes Map and Guide
Useful Los Gigantes map, showing the resort in western Tenerife.

View Los Gigantes in a larger map
Detailed Street Map of Los Gigantes
Los Gigantes Map - Zoomable street map of Los Gigantes a popular coastal resort close to Puerto de Santiago and Cueva del Polvo on the island of Tenerife in the Spanish Canary Islands. On the map the resort is labelled Acantilado de Los Gigantes.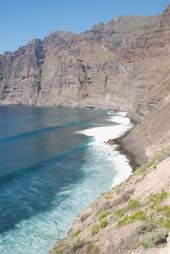 Using the buttons on the top left you can 'zoom' and 'pan' to get a detailed street map of Los Gigantes and plan your visit to the resort, the easiest way to zoom in is to double click on the map with the left mouse button. It is also possible to view the nearby towns, villages and resorts of Puerto de Santiago, Cueva del Polvo, Alcala, La Cumbrita, Gambueza, Playa de San Juan and Abama Golf.
One of the popular west coast resorts of Tenerife, Los Gigantes is located near to Puerto de Santiago. Named after the steep cliffs nearby Los Gigantes is a little quieter than the big resorts, further south, and is ideal for a more relaxing holiday, although there is still plenty to see and do in the area. It enjoys wonderful weather conditions and is ideal for a winter break.
Los Gigantes has a good selection of shops, bars and restaurants and some excellent hotels in which to stay, for instance the Hotel Los Gigantes, which enjoys wonderful views of the sea, marina and nearby cliffs and is an ideal spot for your stay in the resort.
Other Los Gigantes hotels include the Lagos de Cesar, the Hotetur Bahia Flamingo, the Barcelo Santiago and the Vigilia Park Apartments.
Los Gigantes has a decent dark sandy beach, and there are other beaches nearby, for instance Playa de la Arena, which is always well maintained.
As can be seen on this Los Gigantes map the resort can be accessed from the TF-47 road and is around 50 kilometres from Reina Sofia airport, and 93 kilometres from the capital Santa Cruz de Tenerife, which also has an airport.
Los Gigantes Links: Los Gigantes Weather
Nearby Places: Puerto Santiago - Callao Salvaje - Adeje
Tenerife Hotels: Principe Tenerife
Tenerife Golf: Amarilla Golf - Golf del Sur
Other Places: Santa Cruz de Tenerife - Puerto de la Cruz - Playa de las Americas - Los Cristianos - Arona - Caleta - Chayofa - Costa del Silencio - Fanabe - Las Galletas - Playa Paraiso
Related: Gran Canaria - Lanzarote - La Palma - Fuerteventura - El Hierro - La Gomera - Spain - Builders