Cabo Roig Torrevieja
Pictures and guide for the resort of Cabo Roig Torrevieja, Spain.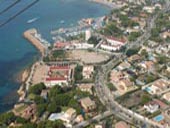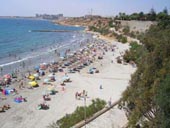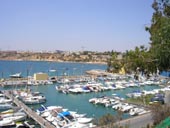 Resorts of the Torrevieja Area - Cabo Roig
Cabo Roig Torrevieja - The exclusive Costa Blanca resort of Cabo Roig Torrevieja is situated on the Orihuela Costa section of the coastline between Punta Prima and Pilar de la Horadada. The clean "blue flag" beaches, the beautiful cliff walks and the bustling
Cabo Roig "strip" attract holidaymakers from all over the world. Very popular with the British and Irish, Cabo Roig also attracts a large number of Spanish visitors during the hot summer season, the Spanish particularly love the beach and the sea.
Well placed for visiting the entire Costa Blanca region, Cabo Roig is an ideal location for a touring holiday. Cabo Roig is often quiet during the winter and spring and this can be a good time to visit as even in December and January the temperature can be up in the 70's.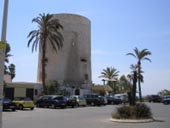 The eye-catching 16th century watchtower, around which Cabo Roig Torrevieja originally grew, is now part of a restaurant complex which overlooks the recently modernised marina. An estimated 2 million euros was spent on the refurbishment of what is now one of the Costa Blanca's most desirable mooring spots.
There are a number of excellent beaches to visit whilst on a trip to Cabo Roig. The main beaches are Cala Caleta and Cala Capitan both very popular with holidaymakers. Also within easy reach are the beaches at Campoamor, La Zenia and Playa Flamenca. All of these beaches are kept very clean and are usually raked every day, they are also safe for children.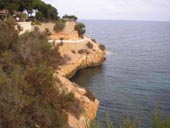 The wonderful cliff-top walk from La Zenia to Cabo Roig is a great way to spend a morning or perhaps an evening whilst visiting the area. This fine walk offers some stunning views of the coastline and on a clear day it is possible to see the resort of La Manga glistening in the distance. During a hot summer's evening you will also enjoy the cooling sea breeze which makes a pleasant change from the burning sun of a balmy August day.
During your stay you may also wish to a take a trip north, to Benidorm where you will find a huge range of fun activities - including the Terra Mitica theme park, Aqualandia, Mundomar Exotic Animal Park and the Terra Natura safari park.
Cabo Roig Torrevieja has a wonderful climate and the sun shines on over three hundred days per year, the mean temperature being about 20 degrees C. You can usually expect to see little rainfall between May and October and the days are generally long and sunny. When rain does fall it is usually during the winter months, November and February being the most common months for rain.
For those who don't like it too hot, May and October are probably the most pleasant months to visit, sun worshippers will hit the beaches of Cabo Roig in July and August and "bake" in temperatures that can reach 40 degrees centigrade.
There are a wide range of bars and restaurants in the area, particularly along Cabo Roig strip (sometimes called "Aguamarina strip"), offering a wide range of cuisines including Spanish, Italian, Mexican, Indian, Chinese, Greek, Hungarian and of course English and Irish. There are also plenty of fast food establishments offering the usual burgers and kebabs. Cabo Roig nightlife is buzzing during the summer months, with plenty of entertainment on offer be it a live band, an Elvis tribute, a quiz night of a spot of bingo.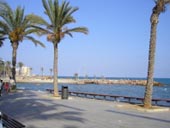 There is lots to do in and around Cabo Roig, why not start with a trip into the nearby town of Torrevieja, with it's wonderful promenade and marina and it's many fine beaches? If you are visiting during the summer months, don't forget the Aqua Splash park with its gigantic slides and excellent picnic area.
If you feel a little more adventurous you may wish to try out the go-karts at Punta Prima, here you can drive the full size karts or the kids can have a go on the mini karts or even the mini quads. In the summer the circus comes to town and this is a great attraction for the children and adults alike, being an old style circus, it has plenty of animals performing tricks to amaze and entertain.
Sporting enthusiasts may partake of the golfing, the water sports (the water sport resort of La Manga is only a 40 minute trip), or the fishing - there are angling safaris available for those preferring fresh water angling.
Cabo Roig is located on the N-332 coastal road between Torrevieja and Campoamor and is easily accessed from the A-37 motorway (Dehesa de Campoamor exit or La Zenia exit), it is handy for both Alicante (45 minutes) and Murcia (20 minutes) airports.

Cabo Roig Links: Cabo Roig Guide - Holiday Rentals - Cabo Roig Weather - Cabo Roig Pictures - Cabo Roig Beach - Cabo Roig Marina - Cabo Roig Nightlife - Aldeas de Aguamarina
Nearby Places: La Zenia - Campoamor - Punta Prima
Golf Courses: Villamartin - Las Ramblas - Campoamor - Spain Golf Courses
Related: Orihuela Costa - Torrevieja - Alicante - Builders