Costa Calida Tourist Information
Useful Costa Calida tourist information, outlining its many towns and resorts.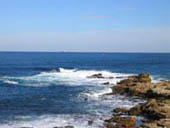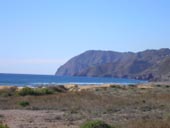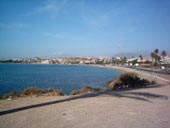 Resort Guide for the Costa Calida Region
The Costa Calida (Warm Coast) comprises approximately 250 kilometres of Mediterranean coastline located in the province of Murcia. It extends roughly from El Mojon in the north to the resort of Aguilas in the south, the region to the north is called the Costa Blanca (White Coast) and the region to the south is known as the Costa Almeria.
The Costa Calida has a hot Mediterranean climate with high average temperatures and low rainfall, giving it its name 'Warm Coast'.
The most notable feature of its northern coastline is the huge saltwater lagoon known as the Mar Menor (Little Sea) which has an area of approximately 170 km2 and is the largest of its kind in Europe. The Mar Menor is separated from the rest of the Mediterranean by a narrow strip of land known as La Manga (The Sleeve). La Manga is one of the best known sports resorts along the coastline of Spain and is some 22 km long and in places no more than 100 metres wide.
Towns and Resorts of the Costa Calida
Murcia - A city of south-eastern Spain, Murcia is situated on the Segura River and has a population of 422,861 (2007), it is in the centre of a low lying fertile plain called the Huerta, well known for its abundant agricultural output. The capital of the province of Murcia, the city has a history going back to the Arab occupation of Spain, when it was founded in 825 AD by Abd ar Rahman III...... read more: Murcia.
Cartagena - Cartagena is the 2nd largest town in the region of Murcia, it was founded by the Carthaginians in 223 BC. Hannibal used the city as his Iberian capital and named it Quart Hadas, the New City. After conquest by the Romans in 209 BC it was re-named Carthago-Nova........read more: Cartagena.
Mar Menor - Located on the Costa Calida coastline within the region of Murcia, the Mar Menor is Europe's largest salt water lake, having an area of 170km2 and a depth no greater than 7 metres it is a unique location.......read more: Mar Menor.
Los Alcazares - Part of the Murcia region of south-eastern Spain, Los Alcazares has a permanent population of around 15,000 though this increases to something like 150,000 during the busy summer season. The municipal district of Los Alcazares includes about 7 km.....read more: Los Alcazares.
San Javier - Perhaps best known for being the home of Murcia's airport, San Javier is a small town on the Mar Menor coastline of the Costa Calida, Spain. Named after the apostle Saint Francis Xavier, the municipal district of San Javier covers an area of some 74 km2.......read more: San Javier.
More to come.......
Golf Courses: Roda Golf Resort - Mar Menor Golf Resort - Spain Golf Courses
Related: Murcia - Cartagena - Los Alcazares - Mar Menor - San Javier - La Manga - Mazarron - Murcia Airport Transfers - Builders