La Manga
La Manga holiday rentals, property, hotels, car hire, airport transfers, golf, markets, guide.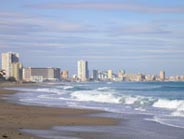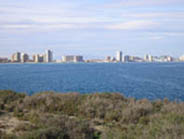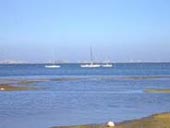 La Manga - Costa Calida - Murcia - Spain
La Manga Spain: The resort of La Manga, located on the Costa Calida coastline of Murcia, Spain, is actually a narrow strip of land some 28 kilometres in length, having an average width of just 300 metres. La Manga (which means "The Sleeve") forms the inland sea known as the Mar Menor ("Lesser Sea"), which is peppered with some of the finest seaside resorts in the region.
Probably best known for its La Manga Club sports and leisure resort, it was an unspoilt stretch of coastline until discovered by the tourism industry during the 1960's. La Manga is now lined with hundreds of high-rise apartment blocks and hotels and attracts many thousands of visitors, especially during the summer months (June to September), winters in La Manga are generally much quieter.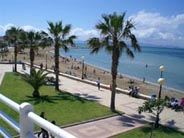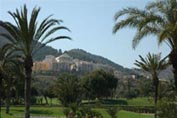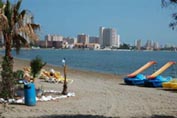 Lapped by water on both sides, the Mar Menor on one side and the Mediterranean Sea on the other, La Manga was formed during the Tertiary Period, some 10 million years ago, when folds of rock made the large basin now known as the Mar Menor. Maps of 1482 and 1562 showed the Mar Menor as an open bay on the Mediterranean, a subsequent process of sand accumulation during the ensueing centuries completed the current form of the isthmus.
A burial site at the southern entrance to La Manga (La Amoladeras) gives evidence of early inhabitants in prehistory, possibly fishing communities. Later the Phoenicians were known to have settled along this coast, establishing trading posts on their Mediterranean shipping route. As the Carthaginians and then the Romans took control of the region, La Manga became part of what was then called Hispania, an area stretching right up the east coast to the Pyrenees.
The Romans were followed by the Visigoths and then the Moors, and it was the Moors who introduced their unique fishing techniques to the Mar Menor (some of which are still implemented today), and also agricultural methods from the deserts of North Africa, enabling surrounding districts to be cultivated.
The Moors were finally driven out of the region in the 13th century, but those who replaced them lived in constant fear of reprisals from Berber pirates, and from the 13th to 15th centuries, the area became almost totally depopulated. Watchtowers were built along the coast to warn of impending attacks (remains of many still exist) and communities were built close to these towers to enjoy their protection.
During these times La Manga was visited only occasionally by fishermen, hunting their prey along the coast, the area was mostly a refuge for various sea creatures and wildlife, in particular sea turtles, who laid their eggs in the golden sand.
Formerly owned by the state, La Manga went on sale by public auction in 1863, to raise money for a bankrupt government, and it was purchased by a group of developers. Very little change was made to La Manga until the 1960's, when descendants of the original purchasers decided to develop the strip of land on a model of the Costa del Sol in Andalucia. Permission was given by the town councils with little consideration for environmental protection or aesthetics, and much consideration for financial gain, uncontrolled development subsequently blighting what could have been a much more attractive resort.
Thus La Manga began to grow, with early low-rise constructions being overshadowed by high-rise apartment blocks and hotels as foundations were sunk ever deeper into the subsurface rock. La Manga's tourist boom began and has continued to the present day.
Despite all this La Manga is a popular and well loved resort with many kilometres of wonderful sandy beaches, some fantastic amenities, superb bars and restaurants and terrific sports and water sports facilities.
La Manga Links: La Manga Map - La Manga Weather
La Manga airport driving distances: Murcia (San Javier) airport to La Manga is a driving distance of 40 kilometres (25 miles), Alicante airport to La Manga is a driving distance of 129 kilometres (80 miles).
Golf Courses: Roda Golf Resort - Mar Menor Golf Resort - Spain Golf Courses
Related: Cartagena - Los Alcazares - San Javier - Mazarron - Murcia Airport Transfers - Builders