Los Gigantes Apartment
3 bedroomed Los Gigantes apartment offered for sale by owner.
Apartment for Sale in Los Gigantes Tenerife
Los Gigantes Apartment for Sale by Owner: Super 3 bedroom apartment offered for sale by the owner in Los Gigantes, Tenerife in the Spanish Canary Islands.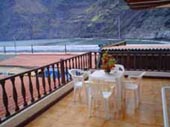 Tenerife South Beachfront Apartment - This superb beachfront 3 bedroom apartment is offered for sale by the owner in Los Gigantes on the sunny island of Tenerife in the Spanish Canary Islands.
Enjoying wonderful views of the sea, marina, cliffs and and beach of Los Gigantes this three bedroom, two bathroom apartment is part of the Poblado Marinero, enjoying the use of swimming pools, tennis courts, golf (4 miles), restaurants, bars and shops.
The owner is selling at a very attractive price as he is currently living in Argentina, and the trip is too long to get full use of the apartment. This fine apartment is in one of the best locations on Tenerife, and would be an ideal rental property for those seeking this type of investment in Los Gigantes.
So if you are thinking of buying a holiday apartment in a location that enjoys sunny weather all year round, this Los Gigantes apartment could be just the property for you.
Price: 130,000 euros.
Los Gigantes is around 93 kilometres driving distance from Santa Cruz de Tenerife, the capital of the island.
For more details contact the owner directly on (0054) 354148747 or e-mail patrickgeirreg@hotmail.com
Los Gigantes Links: Los Gigantes Map - Los Gigantes Weather
MORE PROPERTIES - 2 - 3 - 4 - INTERNATIONAL
Advertise your Los Gigantes property on this page: Advertise Here.
Nearby Places: Puerto Santiago - Callao Salvaje - Adeje
More Tenerife Property: Tenerife Apartments
Tenerife Hotels: Principe Tenerife - Arona Gran
Tenerife Golf: Amarilla Golf - Golf del Sur
More Tenerife Places: Puerto de la Cruz - Los Cristianos - Caleta - Chayofa - Costa del Silencio - Fanabe - Las Galletas - Playa de las Americas - Playa Paraiso - Arona
Related: Gran Canaria - Lanzarote - La Palma - Fuerteventura - El Hierro - La Gomera