Los Cristianos Apartment
Super little Los Cristianos apartment offered for sale by the owner.
Apartment in Los Cristianos Tenerife
Los Cristianos Apartment for Sale by Owner: Below you will find details of a studio apartment offered for sale in Los Cristianos, Tenerife, Canary Islands.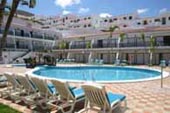 Tenerife Poolside Studio - Pool facing studio apartment, located in Los Cristianos on the island of Tenerife in the Canary Islands. Perfect for holiday lets.
Please call or email for more information or pictures.
Mortgage could be arranged in Tenerife. This is the last studio to be sold on this complex at this price.
Price: 90,000 euros.
For more details contact Simon directly on (0034) 608 717 175.
Los Cristianos, formerly a small fishing village is now one of the most popular resorts on the island of Tenerife, located to the south of Playa de las Americas, it is about 16 kilometres from Reina Sofia airport (Tenerife South) in the Canary Islands, it enjoys wonderful weather conditions and has a great range of amenities, there are lots of attractions both in and around Los Cristianos..
Advertise your Los Cristianos property on this page: Advertise Here.
Los Cristianos Links: Los Cristianos Map - Los Cristianos Weather
MORE PROPERTIES - 2 - 3 - 4 - INTERNATIONAL
Nearby Places: Playa de las Americas - Playa Paraiso - Arona
More Tenerife Property: Los Gigantes Apartment - Tenerife Apartments
Tenerife Hotels: Principe Tenerife
Tenerife Golf: Amarilla Golf - Golf del Sur
Other Places: Santa Cruz de Tenerife - Puerto de la Cruz - Los Gigantes - Adeje - Caleta - Callao Salvaje - Chayofa - Costa del Silencio - Fanabe - Las Galletas - Puerto Santiago
Related: Gran Canaria - Lanzarote - La Palma - Fuerteventura - El Hierro - La Gomera - Spain