Jijona House for Sale
Five bedroomed Jijona house for sale by owner.
House for Sale by Owner in Jijona (Xixona) Spain
Jijona House for Sale: Five bedroomed house offered for sale direct from the owner in Jijona (Xixona), a town noted for its soft nougat called Turron, which is located 25 kilometres north of Alicante.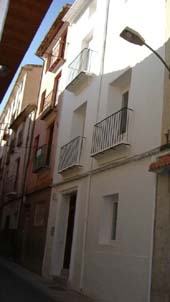 The house is situated in what was once the main street through Jijona, in what is the old part of the town, near to the Casa de Cultura.
Built over five floors it has the potential  for six or seven bedrooms, but we have it laid out as five double bedrooms, two lounges, kitchen, dining room, study and three bathrooms, with a sun terrace on the top floor.
The house was renovated four years ago, with new plumbing and wiring, new roofs and substantial internal work, the electrics were upgraded to 5.75 kW and of course being in the town it is on mains services. 
We have continued to improve the house with 20mm tilt and turn double glazing throughout and have carried out work on the rear of the property including  relaying the small back terraced garden, with plants and gravel beds.
A telephone and adsl line are  now installed as is a satellite dish  and  we have added more lighting and re decorated throughout. The bathrooms and kitchen are served by two water heaters on different floors.
We are in no hurry to sell, but will eventually  want to move into a smaller premises in the same area when the last of our brood flies the nest, this is a lovely house but too large for just two folk.
The  asking price is €268,000 and all the furniture and fittings are negotiable.
I can be contacted on romfty@gmail.com or on (0034) 965 626 224.
Advertise your Jijona property on a page like this: Advertise.
MORE PROPERTIES - 2 - 3 - 4
Useful Links: Jijona Guide - Jijona Map - Jijona Weather - Jijona Apartment
Nearby Places: Alcoy - Castalla - Ibi - Cocentaina - Benifallim - Ontinyent - Penaguila
Golf Courses: Oliva Nova Golf - Ifach Golf Club - Real Faula Golf - Spain Golf
Related: Alicante - Benidorm - Altea - El Campello - Villajoyosa - Albir - Calpe - Moraira - Denia - Murcia - Orihuela - Valencia