Hondon de los Frailes Property
Detached 4 bedroom Hondon de los Frailes property offered for sale by owner.
Property for Sale in Hondon de los Frailes
Hondon de los Frailes Property - This elevated 2 storey Finca has fine panoramic views of the surrounding mountains and was completed in February 2003. It is situated 2.4 kms from the centre of Hondon De Los Frailes in Alicante province.
The house is 214 sq metres of which 27 sq. metres are an integral garage. There is also a 25 sq metre patio attached to the rear of the house and a 30 sq.metre loft with sloping roof. The plot size is 2000 sq metres.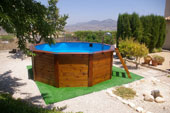 The Finca comprises of, 4 bedrooms, 2 with walk-in wardrobes, 1 with large mirrored wardrobe, 2 bathrooms, fully fitted kitchen, utility room with electric water heater and washing machine, large sitting and dining room, large integral garage( This could easily be turned into a 5th bedroom with en-suite bathroom), a veranda with double glazed sliding windows, upstairs balcony and loft.
The house benefits from full oil central heating and there is also a large fireplace in the living room. There is a double car port and front and rear gates to the garden. The windows are double glazed, have insect nets, steel locks, and roller blinds. The house has security grills and an alarm system. Adequate space exists for a pool. The gate lights and security lights are automatic. The house has mains water, electricity and a septic tank. There is a 1.9 metre satellite dish for Sky, wireless internet and telephone.
The mature garden comprises of a ploughed orchard of 16 mature almond trees to the rear, and has 3 olive trees, 6 pines and various shrubs at the front. The whole garden is automatically irrigated and a large part gravelled.
The property also now has a garden pool.
The house is legal, registered and has the necessary paperwork.
Alicante Airport is 35 mins, Albatera 15 mins, Albatera Railway Station 20 mins, Elche 25 mins, Alicante centre 50 mins Torrevieja 50 mins, Murcia 50 mins, and The Mar Menor 1hr 05 mins
The Price: €193,000.
Contact: Mark on Email: marklacy2001@yahoo.com Tel: (0034) 965072572 Mobile: (0034) 630 341 776 Skype: marklacy2001
Location on Google Earth:
38 15 4823 N
0 57 0018 W
Elevation; 471 Metres
Hondon de los Frailes Links: Hondon de los Frailes Guide - Hondon Valley Map
Advertise your Hondon de los Frailes property on a page like this: Advertise.
MORE PROPERTIES - 2 - 3 - 4
Nearby Places: Elche - Elda - Novelda - Monforte del Cid - Biar - Castalla - Onil - Agost - Santa Pola - Monovar - Sax - Aspe - Jijona - Villena - Los Arenales
Attractions: Rio Safari Elche - Fortuna Spas - Santa Barbara Castle
Golf Courses: La Finca Golf - La Marquesa Golf - Spain Golf
Related Pages: Alicante - Valencia - Murcia - Alicante Transfers - Spain
Need something else? Search our website:-