Costa Blanca Commercial Units
Our latest Costa Blanca commercial units for sale and rent.
Costa Blanca and Costa Calida Commercials - Sales and Rentals
Below you will find a selection of our Costa Blanca and Costa Calida commercial units offered for sale and rent in this popular region of Spain.
Costa Blanca Commercial Units - Via Park V Dream Hills:
Brand new commercial unit now available for rent on the popular Dream Hills urbanization south of Torrevieja on the southern Costa Blanca, Spain. Opportunity to get a business set up in the relatively new Via Park V commercial complex. The proposed rent for this unit has been recently dropped from 650 euros to 300 euros per month - this is a very good price for the area.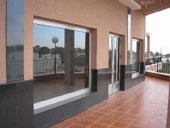 The available unit is just a shell and will need fully fitting out for your business. The unit has a floor area of 45m2 and has pre-fitted glass door and windows. A 5 year lease is available on the unit but this is negotiable if you require longer. No key money is required but a deposit of 2 months rent would be required in advance. The unit is located on the top floor of the complex and has a sizeable front terrace area where goods could be displayed or some tables set out, it is in a pleasant location with some fine views of the surrounding area. If you require more information please telephone Gill on the number below or write to the e-mail address. This unit is also available to buy, contact us for details.
Floor Area: 45m2
Lease Term: 5 years (Longer Possible)
NO LONGER AVAILABLE
----------------------------------------------------------
Costa Blanca Commercial Units - Unit in Algorfa:
Brand new commercial unit in a very popular location on the La Finca golf course near Algorfa on the Costa Blanca, Alicante, Spain.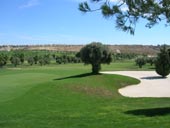 The unit is 65m2 area with extra space in terrace overlooking fantastic view of the sea and surrounding areas. Unit is completely finished with tiled floor, plumbing , wiring, aluminum double front door and glass windows. licence for resturant and ready to start business.Available with key money of 20,000 euros and 1350 euros monthly rent with 10 years lease.
For further details please contact the owner directly at alireza50@hotmail.com or telephone Ali on (0044) 7956455910.
----------------------------------------------------------
La Manga Commercial Unit for Sale: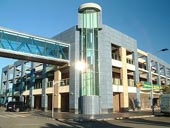 Wonderful opportunity to purchase a commercial unit in a great location close to the Tomas Maestre Marina in La Manga on the Costa Calida, Spain. Purchased for 185,000 euros and now offered for sale at just 95,000 euros, this unit will soon go as prices are sure to stabilise soon and this will be a desirable property in years to come. La Manga has a coastline on the Mar Menor and the Mediterranean Sea.
More details here:- La Manga Commercial Unit
----------------------------------------------------------
Cabo Roig Commercial Units: We are awaiting details of a curtain shop, currently for sale along Cabo Roig strip, the price will be 35,000 euros.
Advertise your Costa Blanca commercial unit on this page: Advertise Here.
Costa Blanca Links: Costa Blanca Map - Costa Blanca Weather
Related: La Manga - Algorfa - La Finca Golf