Cabo Roig Holiday Rentals
Our great selection of cheap Cabo Roig holiday rentals.
Cheap Holiday Rentals in Cabo Roig Costa Blanca Spain
Cabo Roig Holiday Rentals - Known as "the Jewel of the Costa Blanca", Cabo Roig is one of the most popular holiday resorts along this stretch of the Costa Blanca coastline. Located in an area known as the Orihuela Costa, Cabo Roig is also a popular area for re-location as many Brits and north Europeans have chosen to purchase holiday homes or even move permanently to the area.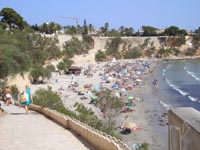 This trend has resulted in a large number of properties becoming available for holiday rentals, and an increasing number of holidaymakers are discovering the Cabo Roig area each year making it ever more popular. The superb beaches (see left) and fine facilities being amongst the main reasons for choosing Cabo Roig.
The lack of real hotels as such in Cabo Roig (the nearest is the La Zenia Hotel), means that privately owned rental accommodation is the first choice for your holiday in the area. We at Needahand Spanish Properties, have a good selection of properties, especially in two of the most popular urbanizations - Aldeas de Aguamarina I and II.
Both located on the desirable sea-side of the notorious N-332 road, Aldeas de Aguamarina I (see picture below right) and Aldeas de Aguamarina II are secure complexes within easy walking distance of facilities and beaches, providing safety, security and convenience for your stay in the area.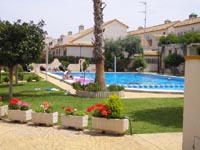 Shown on the right is the beautiful pool area of Aldeas de Aguamarina I, probably our most popular complex, with its landscaped area and secure gating, it is perfect for families with young children and is just a one minute walk from Cabo Roig strip.
Most properties here have sea views or access to sea views from solarium, are beside or a short walk from the communal pool and also a short walk from the seafront.
There are apartments, townhouses and frontline properties available to rent on this fine complex and if you are looking for Cabo Roig holiday rentals, you could do little better than book into one of these properties, but don't delay too long, they get booked up early.
Cabo Roig Holiday rentals - Above are some pictures of properties available for holiday rentals in Cabo Roig - you can click on the pictures or links to get more details of each property. Be sure to book early as all our properties in Cabo Roig are in great demand and many of the popular dates are booked up sometimes a year in advance.

Cabo Roig Links: Cabo Roig Guide - Cabo Roig Holiday Rentals - Cabo Roig Weather - Cabo Roig Pictures - Cabo Roig Beach - Cabo Roig Marina - Cabo Roig Nightlife - Aldeas de Aguamarina I Map - Aldeas de Aguamarina II Map - Cabo Roig Apartments - Cabo Roig Property - Cabo Roig Strip
Cabo Roig Rentals: Villa With Pool in Cabo Roig
Nearby Places: Playa Flamenca - La Zenia - Campoamor - Punta Prima - Pilar de la Horadada - Mil Palmeras - San Miguel de Salinas - Torre de la Horadada
Golf Courses: Villamartin - Las Ramblas - Campoamor - La Finca - Lo Romero - La Marquesa - Spain Golf Courses
Related: Orihuela Costa - Alicante - Murcia - Orihuela - Ciudad Quesada - Benidorm - Mar Menor - Cartagena