Cabo Cervera Hotel Torrevieja
View the Cabo Cervera hotel Torrevieja and book a room.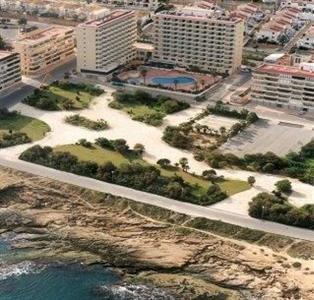 Torrevieja Hotels - The Cabo Cervera Hotel
Cabo Cervera Hotel Torrevieja: One of the more popular hotels in the Torrevieja area, the Cabo Cervera Hotel is located on the coast road towards La Mata, in the area known as Torre del Moro.
The hotel has a large solarium in its swimming pool area, where guests can enjoy the many hours of sunshine which this resort enjoys. Other facilities include gymnasium with sauna, internet access, coffee shop, parking, meeting rooms etc.
A modern nine storey hotel which is located right beside the sea to the north of Torrevieja, around 5 kilometres from the centre of town and around 40 minutes drive from Alicante airport.
Address: Hotel Cabo Cervera Hotel, Carretera Torrevieja A La Mata S/N, Torrevieja, Alicante, Spain.
The Cabo Cervera Hotel can easily be reached via the N-332 (follow the coast road from La Mata) or via the Avenida de Alfred Nobel/Carretera de la Mata from Torrevieja. For a map showing the location of the hotel click here: Cabo Cervera Hotel Map.
Torrevieja is a popular coastal town to the south of Alicante on the Costa Blanca, Spain. It enjoys over 300 days of sunshine each year and has a fabulous water park called Aquopolis.
More Torrevieja Hotels: TORREVIEJA HOTELS
Torrevieja Links: GUIDE - MAP - WEATHER
Local Golf Courses: Villamartin - Las Ramblas - Campoamor - La Finca - Lo Romero - La Marquesa - Spain Golf Courses
Related: Orihuela Costa - Alicante - Murcia - Mar Menor